What are Sea Stations?
Somewhere anyone may visit in order to relax at any time while experiencing peace-of-mind.Each Sea Station offers ingenuity that enhances the myriad attractions of the sea. Commencing with boat cruises, fishing and marine sports opportunities; with seafood, fresh fish markets, hot springs, restaurants and hotels, each Sea Station offers the unique qualities of it surrounding region without reservation.Please make sure to drop by Sea Stations and enjoy what they have to offer.
Services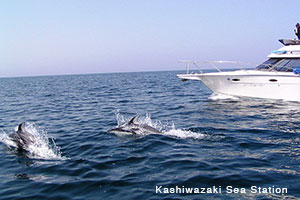 Visitor berths are available for guests arriving at Sea Stations aboard pleasure boats and yachts. Furthermore, staff members including instructors and guides, as well as boats, etc., are on hand so that guests can experience boat cruises, fishing and marine sports opportunities, etc.
Sightseeing Boats and Cruises

Experience a wide range of choices from sightseeing boats through to chartered cruises. With family and friends while upon the water, enjoy both Japan's varied scenery and the exhilaration of sea breezes.

Hot Springs

The hot springs available at various Sea Stations offer a range of qualities and efficacies. Gazing out on the sea while immersed in a hot spring is something memorable to be personally experienced. What about touring the different hot springs found in the vicinity of Sea Stations?

Accommodations

There are a range of accommodations available, from convenient rooms through to luxurious hotels. People also seek accommodations for a myriad of purposes, from those traveling to hot springs on holidays through to those who are traveling as wedding guests. Sea Stations offer accommodation in numerous styles.
The Sea's Bounty

We want visitors to experience the pleasure of eating the sea's bounty! Sea Stations are always of such a frame of mind. We hope that in addition to enjoying aspects such as the open sea, the sea breezes and the sound of the surf, visitors will also savor the fresh, locally-caught sea's bounty.

Restaurants

Enjoying a meal while gazing out on the sea makes the dining occasion just that more delicious. Sea Stations can deliver the varied taste experiences of international cuisine without reservation, whether the food is French, Italian, Mexican, Asian or Japanese.

Fresh Seafood Markets

Delicious as sashimi, delicious when grilled, and delicious when boiled; it is our hope that visitors will avail themselves of opportunities to purchase the freshest seafood at seafood markets throughout the year. Sea Station markets offer extensive ranges of delicious fish and seafood, and they look forward to your custom.
Multipurpose Facilities

For people preferring the outdoors, there are camping and barbeque facilities, amusement parks for children, as well as shopping malls, etc. Sea Stations can cater for even the most demanding visitor, with a wide range of facilities available for the enjoyment of visitors.

Marine Sports

The variety of marine sports is extensive. On the water there are jet skis, canoes, kayaks, windsurfing and waterskiing. Under the water can be explored by snorkeling and scuba diving. Sea Stations throughout Japan are able to introduce visitors to the enjoyment of marine sports.

Fishing

The thrill of fishing lies in the landing of fish throughout the four seasons. Moreover, there is the attraction of spending time surrounded by the great outdoors. Sea Stations introduce the enjoyment of fishing to everybody, from fishing novices to experienced anglers, from children to adults.
Sea Swimming, Pools

The king of seaside leisure pastimes is of course swimming in the sea. Sea Stations are able to introduce beaches where swimming can be enjoyed. What about using a pool at times of year when sea swimming is not possible? There are also Sea Stations where pool facilities can be enjoyed throughout the day.

Boat Schools

For persons who want to experience the exhilaration of boating on the sea, lessons at a school are recommended. In addition to teaching boat handling techniques, school instructors teach etiquette and ways to more fully enjoy boat outings.

Yacht Schools

Making way under sail accompanied only by the sounds of the open sea, the wind and the waves, is one of yachting's thrills. To realize such experiences, however, some knowledge and skills are necessary. In addition to teaching students both the workings and handling of yachts, reliable sailing veterans teach etiquette and ways to more fully enjoy sailing outings.
Rental Boats

Equip and cruising, enjoying wakeboarding with friends or maybe a party on the water. There are numerous ways to enjoy both the seasons and the extensive canvas of the sea. If you possess a Japanese boat license, what about the convenience and peace-of-mind offered by a rental boat?

Boat Licenses

If you possess a boat license, the scope of a marine-focused lifestyle can be expanded by fishing and cruising, enjoying wakeboarding with friends or maybe having parties on the water. What about obtaining a boat license, and then commencing your marine-focused lifestyle by utilizing the convenience of rental boats?
Facilities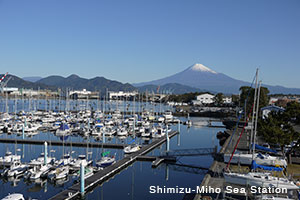 Sea Stations are equipped with basic maritime infrastructure that may be used by visiting boats. Such facilities include mooring berths, toilets, refueling, watering, electrical and emergency repair facilities. Furthermore, there are also showers, accommodation, restaurants and shops available.
Information counter

Public
toilets
Emergency
repair facilities

Boat refueling facilities

Watering
facilities

Electrical power facilities

Shower
facilities

Restaurant facilities

Accommodation facilities

Hot springs

Souvenir shops, shops

Boat equipment sales

English spoken here
Regional Tie-Ups and Cooperation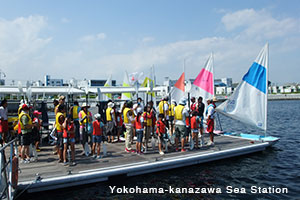 Services that leverage unique regional features such as marine events and marine product sales are available, visitors can also experience fishing first-hand on local fishing vessels. Furthermore, as activities that contribute to regional revitalization and marine education, hands-on experiences and cruising events are also held in conjunction with Sea Station facilities. Additionally, consideration is also being given to establishing Sea Stations as disaster-response and rescue centers.
As Sources of Information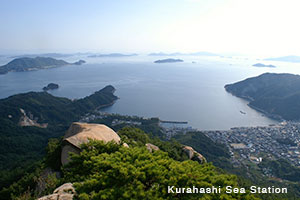 Commencing with the sea's natural diversity, its history and culture, all of which are valuable tourism resources, Sea Stations also provide visitors with marine sport, facility and shopping opportunity information, etc. A great variety of information is also provided that allows visitors to explore the environments surrounding Sea Stations.